CAIRNS
Flight Sydney to Cairns, army ducks around the rain forest in Karanda, by hire car to Port Douglas, the Daintree, Cape Tribulation then from Cairns to Innisfail, Paronella Park, Flying Fish Point and also inland to Mareeba and Kurunda.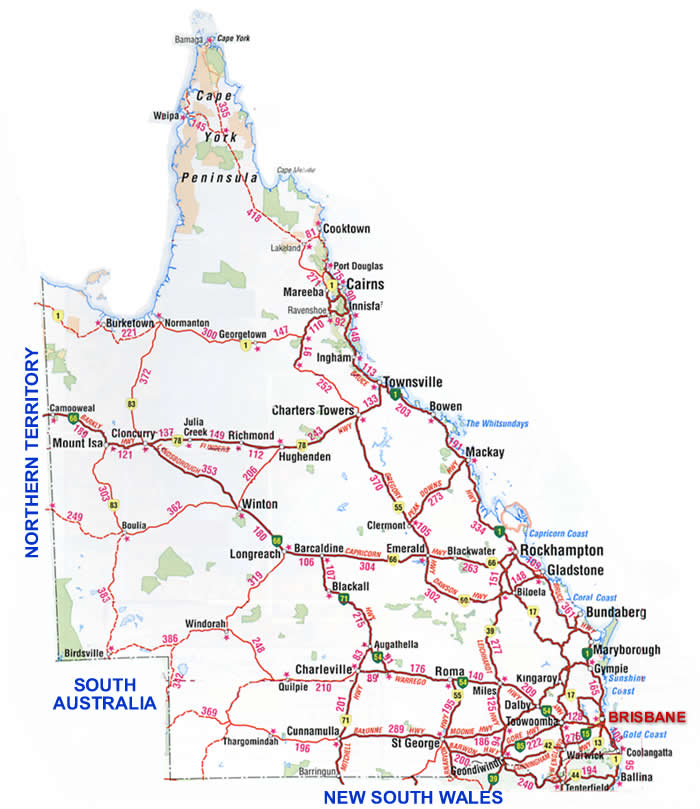 CAIRNS 
A tropical paradise
Cairns (kɛərnz), it took us longer to get here from Sydney than from Sydney to Auckland. Queensland is huge. Cairns is hot like Nigeria. It is also a pretty laid-back place, quite unlike Nigeria.
We are here in the Shangri-La Hotel on the seafront facing the bay with a marina along one side. Within a day we have extended our stay from 4 to 8 days. There may be further extensions. We may stay until the money runs out. Unfortunately that won't take long.
After two days of lounging around the pool, walking in the tropical botanicals, strolling along the esplanade, and coveting the squillion dollar boats in the marina, we are pink and relaxed and happy. We never want to see a computer again. I am beaming this in to my laptop by remote.
Lilly has argued that Cairns is bigger than Tauranga. I say Tauranga is bigger by quite a bit. Arguments like this rarely cause much heat even in Cairns and particularly when we are on holiday. So to settle the argument I have asked Google (by mind control) to insert into this text in my deserted laptop, Cairns population here (164,356) and Tauranga's population here (114,300).  If I ever have to resort to using a computer again and reading this stuff, I am sure I will be right.
My Lilly has a big camera and I have a small one. Mine is ours and hers is J's. Some people might call these hand-me-downs but in our case they are more correctly called hand-me-ups. At this juncture, her camera is kindly an on-loan-hand-me-up. Lilly lavishes much attention on it. She reads the manual which is larger and more complicated than Tax Pack 2010. She carries it in a large padded bag close to her heart and handles it very carefully and tenderly. It takes an age to unzip from the bag, get the strap around her neck, push buttons, turn buttons and get the resolution right but she is very patient with it. She unpacks it on return to the hotel and carefully strokes and brushes it. I have flashes of jealousy, but occasionally today I have been entrusted with the enormous responsibility of operating it so I am gradually adjusting emotionally.
If my computer has not hibernated I must record three highlights of a walk tonight on the pier that embraces the marina. On our outward trip, three young blokes caught a seagull entangled in their fishing line. They very carefully pulled the shrieking bird in, threw a jumper over it, after getting pecked a bit and very carefully disentangled and released it. On the return trip the same guys caught a small shovel-nosed stingray, both events faithfully recorded in all their exquisite detail on my wee-hand-held-quick-to-the-draw-instant-push-one-button camera. The bats (some call them flying foxes) are astonishing. In the early evening we saw two colonies of them passing overhead. One of the colonies went on and on for ever. There must have been zillions of them. I drove Lilly bats by insisting we watch the whole fly-by.
Great Barrier Reef magic
When you think of reefs, you tend to think of hard pointy rocks that always seem to attract soft vulnerable hulls. But Australia's world heritage Great Barrier Reef is different.
Great, yes it is one of the seven natural wonders of the world (Mt Everest, Grand Canyon, Victoria Falls, Aurora Borealis, Rio's harbour and a Mexican volcano are the others) and the only living thing visible from space, although why go up there for a look when you can see it and touch it so easily, beats me.
Barrier, yes it was back in Cook's day when he got stuck on it, but following Flinders, who named and surveyed it, no longer a real barrier.
Reef, no definitely not one reef, it is almost 3000 reefs, together stretching 2500km up the coast of Queensland. (cf. NZ at 1600km long)
Living, yes it is both animal and plant. The core ingredients of the reef are the corals which are organisms that secrete calcium carbonate to form a hard skeleton. Some of these corals can catch small fish, plankton and even humans. You only realise when you touch them that they sting.
Not naturally comfortable in deep water? Don't swim towards the shallow coral reef. Lilly really struggles with the fear of deep water and naturally swims toward the shallow parts of the reef. Even with a full body length lycra suit on, she got stuck on the reef minus a flipper and got cut and stung on the foot. Not bad this time and she eventually got on top of her fears and enjoyed the snorkeling. The coral was not as colourful as in Fiji but we spent at least three hours swimming with shoals of multi-coloured fish and loved every minute of it. Reef Magic was our purveyor and reef magic it was, about 90 minutes from Cairns out to the reef. Estimated 150 people on board. We were warned in advance we might see a shark and did. It was about 7 or 8 metres deep, swimming away from me, unmistakably a white-tip reef shark about 5 to 6 feet long. This one is apparently harmless.
Tuesday the 2nd was topped by a meal (including a rare bottle of Marlborough Cab Sav and cold beers) at Harbour Lights which comes highly recommended and then a flutter at the Reef Casino later to celebrate a memorable 65th.
Rain Forest Station and the army ducks
Wednesday and we took off on a guided tour of the rainforest by gondola and scenic railway. The best part of the day was the Rain Forest Station up in Karanda where we were treated to a tour of the rain forest in Army Ducks, and aboriginal dancing and culture. The Army Dukw fleet of 12 are World War II amphibious multi-terrain vehicles (even older than me) that are versatile on land and water. Seat about 30. Our Aussie driver was a fair dinkum character who could have passed for a biologist. Lilly sat up front with him and had the ideal spot for her semi-professional photo snapping.
The aboriginal content was great. Half an hour of dancing by six young blokes followed by boomerang throwing, spear throwing, and didgeridoo playing; every bit of it professional and enjoyable, apart from our hopeless attempts to get the boomerang to fly home.
Thursday is relaxing day in the hotel before we hire a vehicle for Friday and Saturday and back to Sydney late Monday.
Port Douglas, the Daintree and Cape Tribulation
Friday 5 November we hired a bright red sporty Holden SV6 SIDI, from Hertz and headed North to Port Douglas, the Daintree and Cape Tribulation.
First stop for photos was Clifton Beach one of about a dozen of the so called Northern Beaches of Cairns; long sandy beach, no crocodiles in sight and it being Friday not a lot of people in sight either. Wonder if Friday is Croc feeding day. (Just kidding, as are told later that Crocs kill an average of one person a year whereas 90 people a year die by falling off horses – not sure they had that right either.) Anyway stretching out off Clifton Beach for about 50 metres (and 50 metres long) was a prominent enclosure with a net (held down by a chain) to keep the "marine stingers" out. "Marine stingers' is a euphemism for the highly poisonous box jellyfish which inhabits these waters from November to May. No problem with them further out (on the reef for example) because they are only found along beaches and for about 3 km out. We are not swimming anyway in the sea, but if we were to and we were to swim outside the enclosed area and we did get stung, the local authorities have kindly provided a public bottle of vinegar to pour onto the stings (not rub) before we die an apparently agonizing death.
Very pleasant tree lined beach with quality homes all along the beach – these are not beachside batches but look like reasonably well-off retirees.
Same goes for Port Douglas some 80 Km further north. This is one of the prettiest little towns you could imagine with tree lined streets, and supported obviously by well-heeled inhabitants. On a peninsular between the open sea on one side and a harbour/marina on the other, Port Douglas sits on a peninsula, shades of Mount Manganui. It is apparently the playground of the rich and famous, as is NSW's Byron Bay. Once Lilly has captured the essence of the place on-camera we press on northwards through the ubiquitous sugar cane fields, narrow-gauge rail crossings (to transport the cane) and periodic cane factories.
Next brief stop was a cable ferry across the mighty Daintree River, sharing with a cement truck, three buses and a miscellany of other vehicles. The river is wide and apparently croc infested but we didn't see any.  Then on to Cape Tribulation; a winding drive through the beautiful rainforest. We were constantly warned to be watchful of the Cassowary (a colourful emu like bird) which is a much treasured bird in these parts. As it turned out we were extremely lucky to see one in the wild. We were told later that many people who lived around the place had never seen one in the wild as there are only about 1300 left in the whole of Australia. This large bird crossed immediately in front of our car, we stopped and Lilly got out and went after it to get a snap. Later we learnt they are dangerous and aggressive, particularly if cornered. They can do a lot of damage with a huge razor sharp claw. Be wary o' Cass in future.
Not much to see at Cape Tribulation except a long beach and lots of forest; the northern end of the Daintree rainforest. No warnings about crocs here but we were careful. Cook got into a spot of bother on the reef off the cape and had a lot of trouble getting his boat off the reef, beaching and then repairing it, hence the tribulation.
A few miles on the return journey we stopped off at the "Discovery Centre". This multi-award winning centre had every conceivable tree and vine and creeper and bush and epiphyte that make up the rainforest. You view them all from an elevated walkway and tower that goes right to the top of the canopy among huge trees. Lilly was in her element, stopping constantly to capture every inch of the place. We will spend weeks just sorting out the photos.
Back across the Daintree then a detour up to the Daintree village where we spent an hour on a tour of the river with a guide looking for crocodiles. The locals call them salties (salt water crocodiles) as opposed to freshies. Although this looks to be a fresh water river our guide tells us it is tidal (we are 17 kilometres from the sea) and anyway salties can live in fresh water, but the freshies can't live in salt water. We don't test the hypothesis, keeping our hands and all bodily parts well away from the water in his rather small boat. We at last see a mid-size crocodile close to the shore, among overhanging branches, mostly submerged and looking not at all dangerous. Lilly gets a photo for posterity and our day is complete.
AROUND CAIRNS

Jose's Paronella Park, Flying Fish Point and hungry crocodiles
Saturday sees us head south. Boy is this car hot. Foot it and by the time I recover from the initial thrust of overtaking we are rocketing. All the power is wasted on us, as we are leisurely enjoying the countryside which is cane and now also bananas in pajamas, even mangoes. (The bananas all have a colourful bag over the banana stalk to protect the fruit from the bats and fruit flies.) We travel through Innisfail only stopping at i for Information to get the gen on the local sights. We pretty much know, but need confirmation.
Paronella Park about 90 minutes south of Cairns is our first stop. This is a remarkable story of vision and hard work and Lilly later says also bad feng shui. Almost 100 years ago a young man from Catalonia (Spain) arrived in Australia to make his fortune. And he did, quite quickly. His name was Jose Paronella and he began work, cutting cane in 1913. Within a year he hads saved enough to buy a small cane farm of his own which he built up, sold, and doubled his money very quickly. Over the next 5 years he bought and sold eleven farms, made a lot of money and went back to Spain to marry his childhood girlfriend. Too late, she was already married, so he married her sister and returned to Australia. In a picturesque rainforest spot with a significant waterfall and stream he built a castle by hand in a beautiful spot with waterfall and natural pool, ballroom, tennis courts and planted 7000 trees. He died in 1948 and passed it on to his family but huge floods in 1946 and 1966 and 2006 and a cyclone in 1996 did a lot of damage. He opened it to the public but re-routing of the main northern highway also affected takings. The present owners have preserved it where possible but the savagery of the elements has taken their toll.  Apparently he purloined a lot of railway tracks and used them as the reinforcing for much of the concrete work. Lilly attributes his relatively early death and the early death of a son and the floods to that. Bad feng shui she says. We might say a rough justice. But despite the vibes this was an amazing undertaking and is justifiably preserved for posterity.
From there on to Flying Fish Point or just before it, where we visited a crocodile farm to see and to feed kangaroos, emu, cassowaries, dingoes and hold a snake and a small croc. The huge crocs are primitive and deadly, don't mess with them. Some of them were huge and their bite sounds like a shotgun when they close their jaws rapidly on nothing. Half a chicken does them for three or four days because they laze around and use little energy. Can go for a year without food, so we are thinking they would make a good pet if we intend being away a lot.
Port Douglas, worth a second visit and the breeding butterflys
On Sunday we go North to Port Douglas again and wander around the market and town. We visit the wildlife habitat there to see huge enclosures of mainly birds but also koalas, wallabies, kangaroos, wallabies and crocs. Lilly holds a koala while we are photographed together with only the bear between us.  We head inland to the tablelands and through Mareeba where cane and rainforest give way to the eucalypts. At Kuranda we catch up on the butterfly sanctuary where we see 1500 butterflies of all different sizes and colours in an enclosed rainforest environment. These people breed 36,000 butterflies a year. Most of them live about 2 weeks but the Monarch almost a year. Very impressive facility.
Virgin Blue's chaos 
On Monday, laze by the pool, book out at 12 and catch a plane at 6pm. At 9pm we circle over Sydney for a while only to find that the airport is closed due to a thunderstorm. So we are diverted to Brisbane and eventually booked into a real dump of a hotel for about 3 hours sleep before having to get up to catch an early morning Sydney flight departing at 6am. Virgin Blue's organisation is chaotic, even the bus driver lost his way and a trip to the hotel that should have taken 25 minutes took double that. Apart from this last debacle we had 8 fantastic days away and did not want to come home. Lilly is sorting and categorizing 14 million photos which will keep her occupied full-time till we go again.